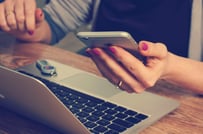 As we enter 2019 and return to school and work, it's clear that we're finally in a digital-first world for learning materials.

Our internal stats really illustrate this macro trend. At this time last year, we had enabled a total of 7.8 million learners to access the learning materials that enabled them to excel in their pursuit of new skills and degrees. Now, we've almost doubled that number with over 15 million active learners; we rank in the top few hundred websites in the world during our busiest periods..
So, what really is a digital-first textbook or a training experience in 2019?
A textbook in 2019 is now affordable. With Inclusive Access, we've reached the tipping point on course material affordability in higher education. Students last year saved millions of dollars getting quality content at the right time. In fact, A recent study by the Babson Survey Research group indicates that, for the first time, faculty prefer digital learning materials over print, a likely nod to the cost savings offered by digital materials.
An online class is now collaborative. Customers who use our Intrepid platform are finally able to launch collaborative class-like experiences for training, executive education, and corporate learning and development. Hundreds of thousands of learners were able to gain certifications or new skills online, with similar outcomes to in-person training. At the same time these partners are building capacity amongst their workforces, they are solving critical business problems for themselves - reducing costs while improving outcomes and expanding into new markets that were previously unreachable.
A textbook is now personalized. Hosted by our content provider partners or powered by Acrobatiq—our learning-optimized, personalized learning experience platform—textbooks are now truly next-generation experiences that are data rich, interactive, and focused on learner success.
Our part of this journey would not have been possible without the passion of our customers and partners, and the dedicated team here at VitalSource. From launching global corporate learning MOOCs to in-platform AI coaching, our team is very excited about what 2019 will bring to the continued evolution of learning materials. We hope that you're enjoying the journey as much as we are!