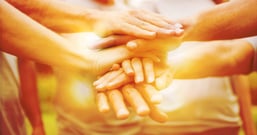 Have you ever wondered how you can get more involved in helping improve your community but not sure where to start? At VitalSource we felt the same way and decided to take action and form an internal committee called VitalServes. Our mission was to come together as a team and represent the interest of our employees while also aligning with VitalSource's core values.
Since we had limited experience, we approached the situation with a few best practices that are worth sharing if you are considering starting an organized community service initiative.
1. Survey your employees - see what matters most to them and focus your time there.
An important item to consider for participation is choosing organizations that your people care about most. Consider ways to involve all your employees, such as having rotating board members that plan and organize events and inviting employees to participate in meetings to obtain more diverse feedback.
2. Once you have narrowed your focus – start your research!
This is the fun part. Learning about the organizations in your area is a great place to start. At both of the VitalSource locations, Raleigh and Boston, we were amazed to find so many great organizations working on the issues our team was interested in. From there, we vetted each one and found events that fit into our schedules
3. Decide how you're going to participate: time, money, goods
There are many ways to give back to the community and each one offers its own reward. Most organizations want to come up with ways that everyone can participate. Volunteering your time is one of the best ways to get people out of the office and into the community.
4. Make some goals.
When tackling any type of concerted philanthropy effort, it is important to have a way to gauge success. Is it a matter of a certain dollar amount, hours worked, total employee participation or some combination of the three? Knowing this going in makes the results of your efforts measurable and can guide the decisions on what events to undertake next time.
5. Have fun with it!
One of the added benefits of coming together as a team and helping others is the connecting experience it provides. It helps colleagues who may not normally work together get to know one another. Additionally, we are touching areas of the community where, otherwise, we may not have had the opportunity to make a difference.
Lastly, be sure to speak to your Human Resources personnel or company leadership about the company willingness to provide support in the form of dollars or paid volunteer time for employees. Follow company policy for approval of expenditures and volunteer events.