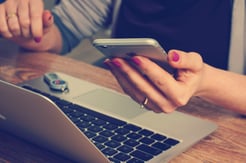 As an undergrad, I went to a public university and, like most students, heavily relied on textbooks to complete and be successful in my studies. Early in my academic career, I found VitalSource as a source for my textbooks – in a digital format – and my study habits were forever changed.

I am now in my master's program and I use VitalSource Bookshelf every day. I log in to VitalSource on my Mac, open OneNote, put each program side-by-side on my screen and use the integration between the two programs to take notes on the chapter at hand.

There are so many good things about Bookshelf, but there are two main features that I love the most.