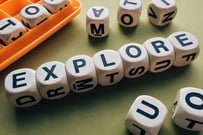 Supplying institutions with content in an increasingly diverse and competitive marketplace requires innovative and creative solutions. VitalSource helps publishers reach new customers, test new models, and drive revenue.
Our sophisticated content provisioning tool, Bookshelf Explore, opens you up to flexibility across all collection models and use-cases: library discovery, institutional adoptions, workshop materials and subscription sales. But with such a versatile tool, it can be hard to grasp the ways in which Bookshelf Explore can help you reach new customers and monetise content in new ways.
The subscription economy is one that is emerging in all areas of content consumption and increasingly becoming the access model expected by customers. Embracing this change in demand, although daunting, allows you to build ongoing relationships with your customers that focus on them and their needs. So how do you go about supporting subscriptions? The good news is that launching a new business model doesn't have to be difficult.
The Bookshelf Explore admin portal puts publishers in control by providing you with the ability to easily build collections when it suits you. Have a collection, but it's not quite right for your customer? Create another one in minutes. It's your content, and now you can create collections your way. Scaling your subscription model just became so much easier.
Subscriptions also meet the needs of a varied student body. Single or multi-discipline, students can choose the content they want to access while you maintain control of access and pricing. VitalSource's recommendation service within Bookshelf Explore also makes it easy for students to find and use valuable resources, saving them time and effort. Features that reflect how users expect to consume content today, such as a "Top picks" and "Trending" as well as a "Must read" section are included to easily allow students to identify relevant content for their studies to enrich their learning experience.
Accommodate all budgets, support student choice, choose license lengths, and make revenue projections easier—all with VitalSource Bookshelf Explore.