VitalSource is "a technology company that makes it really easy for institutions to ensure every student has the content they need for learning the first day of class, at affordable price points."
VitalSource is "an easy button to move content to a digital platform helping students and their institutions actually succeed."
The above quotes are from our chief operating officer Pep Carrera speaking with Neil Hughes on the Tech Writer Blog podcast earlier this month. The podcast gave Pep the opportunity to discuss VitalSource's direction and the emerging trends in the education market. Pep addresses a number of relevant topics including inclusive access, analytics, OER and student engagement. His responses are insightful and thought provoking.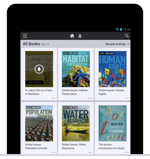 "We try to work with an institution to find a way to author the content that students are required to purchase for classes," Carrera told Neil, "and then we work with the partners that own that content to ensure that it's at an affordable price point, and that every student gets it the first day of class. That has all sorts of great learning outcomes."

Pep went on to talk about how Inclusive Access programs are creating better learning environments by equipping students with the tools needed to be successful.
"…we're trying to make it really simple to start these (Inclusive Access) programs at schools, and solve that very specific outcomes' problem for students," he said.
The entire podcast is just over 20 minutes in length. If you're interested in understanding who we are at VitalSource and some of our perspectives on the edtech industry, I highly recommend listening.
Hughes is a tech columnist, freelance writer, blogger, ghostwriter and podcaster who writes engaging and often viral content. Examples of his work can be found on his LinkedIn publishing page and columns at Inc, Huffington Post and The Next Web.