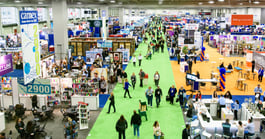 After the spring back-to-school rush, our friends in the independent campus store industry come together for two key conferences, the Independent Collegiate Bookstore Association annual meeting (ICBA) and the National Association of College Stores Campus Market Expo (CAMEX). At these conferences, store leaders and staff learn from industry thought leaders, and each other, and discover new tools to help their stores contribute to the mission of their institutions.

While there's plenty of cool "front of the store" merchandise on display at ICBA and CAMEX--one can acquire a collegiate branded spatula, or team spirit cowboy boots--the store leaders we work with are focused on something more critical than game-day attire. For the campus store folks focused on course materials, the mission is improving affordability and student outcomes. Increasingly, college stores are the driving force behind lowering the costs of course materials. While their per-unit margins may be shrinking, campus stores are stronger and more valuable to their institutions than ever before.
According to Spring 2018 data presented at ICBA by our own Ryan Petersen and Jared Pearlman, students using bookstore-provided price comparison tools chose to buy their materials via the campus bookstore 87% of the time. This is an increase of more than 7% since 2014. This data decisively busts the myth that online providers like Amazon always offer the lowest prices.
Campus stores are also seeing dramatic increases in sales of digital course materials. For the Spring 2018 term, year-over-year sales of digital materials increased 75% through campus stores. These dramatic increases are driven by two factors. First, publishers are reducing digital prices in an effort to impact course material affordability. In fact, we've seen prices on eTextbooks drop over 20% since spring 2017. Second, students are increasingly comfortable with digital learning materials. Today's freshmen have had access to smartphones and high quality ebooks for more than a decade. In fact, in 2017, 90% of students report using a digital material in a previous course, according to new data released by NACS Student Watch.
One reason we at Verba and VitalSource are bullish about the value of the campus store industry, and the growing transition to digital course materials is the potential that models like Inclusive Access offer to improve student outcomes. Campus stores' integrations with Student Information Systems (SIS) and Learning Management Systems (LMS), coupled with the analytics and real-time insights offered by near 100% student access to digital course materials offer new opportunities to understand student engagement and improve student outcomes. With the campus store at the center of course materials affordability, the entire institution benefits. All students get access to the correct course materials on day one, faculty get insights into student engagement data, and institutional leaders get to level the playing field with equity of access to course materials.
We look forward to continuing to celebrate the success of our friends in the independent campus store industry March 2-6 at CAMEX in Dallas, TX.