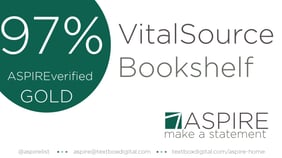 I'm proud of VitalSource's commitment to excellence in accessibility and the recognition our team has recently received. In September 2019, we were awarded the DAISY Consortium Award for Accessibility in Publishing. In January 2020, we were ranked the #1 publishing platform by ASPIRE with an incredible score of 97%. I'm proud of this recognition because it highlights our team's continuous commitment to providing tools with industry-leading accessibility features.
The DAISY Consortium Award presented at last year's Digital Book World conference lauded our accessibility features and tools as best in class. This recent ASPIRE audit score of 97% shows that we not only deliver tools that work but also the information learners need to get to those tools, making us their number-one-ranked platform.
We are also committed to collaboration and partnership to further improve accessibility for learners. In 2018, VitalSource joined the steering committee for the latest Jisc ASPIRE audit of accessibility information. As part of that group, our team worked collaboratively with librarians, publishers, and aggregators to determine the standard requirements to ensure all learners have the information they need. It is not enough for learners to find the tools and information they need only at VitalSource. We want to see those standards implemented across the industry to make digital learning truly accessible for all.
Accessibility is not a "box to check" but a commitment to designing products that place accessibility front and center from the beginning. We have built global platforms that ensure all learners can seamlessly access the tools and learning materials they need anywhere, anytime.
VitalSource co-founder and Vice President of Product Strategy Rick Johnson said it best last year when we announced our new transparency initiative to clearly identify all eTextbooks and course content in the VitalSource catalog with accessibility features: "We are committed to exceeding industry standards and ensuring our content and tools are accessible."
Thank you for your trust and your partnership in making this happen.