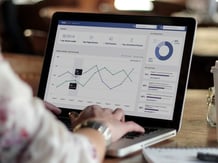 For publishers and content creators, it's all about learning:
• How does our content improve learning outcomes?
• How can we ensure that the right content is in the right course?
Publishers and institutions agree on a simple formula: quality content, plus quality instruction, plus quality student engagement equal student success. Understanding exactly how students engage with content is key to improving each piece of this formula.
When it comes to determining whether publisher content improves learning outcomes, publishers have, historically, had a limited set of tools from which to draw insights. Instead of simply looking at sales trends or acting on sparse reviewer feedback, editors can now draw insights from global content usage patterns on the VitalSource platform. They can see what books are being used and even which parts of the book are most frequently assigned and accessed.
Armed with this information, editors and authors can know where to invest in content enhancements or where revisions are needed to better achieve strategic learning objectives. In support of this, VitalSource is leading the industry by proposing changes to the EPUB for Education standard that enhance the creation, submission and tracking of scorable activities within the content. With these enhancements in place, editors will be able to quantitatively analyze formative assessment results in context with student study patterns.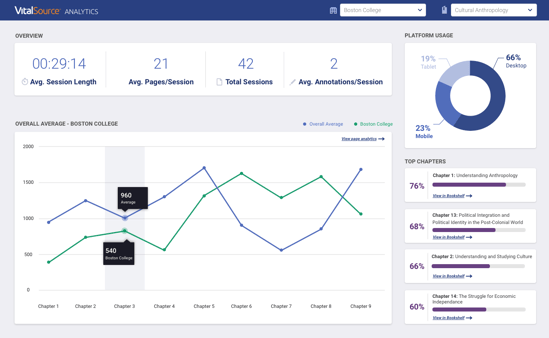 VitalSource Dashboard Analytics
Great instruction demands great content. In addition to tools that aid content revision, the VitalSource Engagement Dashboards inform and reinforce adoption decisions by providing insights into content usage. Instead of being surprised by a lost adoption, publisher reps can now proactively monitor usage patterns at the book and institution level to identify at-risk adoptions, allowing for greater insight into whether content is meeting student and instructor needs. As content evolves and new books are released, publisher reps can recommend books to instructors through the VitalSource sampling program. When instructors sample content on the VitalSource platform, publisher reps are able to analyze usage patterns and ultimately help instructors find the right content for their course.
Join us on September 21 for the webinar Data-Driven Content Insights for Publishers and get an in-depth look at how the VitalSource global distribution platform can help you deliver better content to the right courses at the right time.