Data: another big word that when applied to effectiveness and success, moves decision-making from subjectivity to objectivity. Objectivity, combined with proven motivators, produces desired change. It's that simple. Don't we all want to produce desired change? How can we reduce the cost of education? How can we improve student success? At VitalSource we understand these are tough, yet important questions.

Using data to inform new, effective strategies can be difficult. Some would say you need big data, data science, data visualization tools and the infamous data lake to be successful. If ever, it's clear that the information age is here. Someone once said, "blindly throw a dart in Silicon Valley and you'll hit a data start-up." I'd say, ask those in the education space how they're using data and they will all have a story to tell. From data-driven, prescriptive individual intervention to academic policy change to the simple task of scheduling success coaches when students are studying, data is transforming the landscape of education.

One of the many contributing factors to student success is the effectiveness of course materials and the quality of study sessions. Last year, students produced data from over 2 billion learning interactions on the VitalSource platform. This data is powerful when analyzed by the right individuals for the right purpose, but for many, the volume and velocity of learning interactions flowing from the VitalSource platform can be unwieldy.

One of the ways VitalSource is committed to enhancing the learning experience is by equipping educational leadership with the right tools and data they need to be successful. Based on input from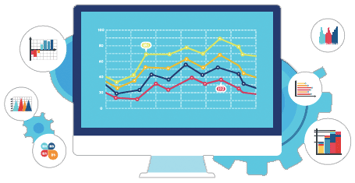 several partners, we created the Engagement Dashboard, a tool designed to facilitate the analysis of student learning interactions by providing easy access to both high-level trends and in-depth usage statistics by student, course and book.

Accessible from a link within the learning management system, instructors can use the Engagement Dashboard to see how students are using course materials in their classes. A quick check before class could help shape the lecture, lead the instructor to encourage specific students to read or provide insight for conversations during office hours.

The Engagement Dashboard provides details around individual student study habits. This includes the number of study sessions, the length of each study session, the number of page views and whether the student is studying on their phone or laptop. For the success coach, being able to discuss and track a student's habits is invaluable. Coaches can see when students cram before a test, how often they read throughout the semester and if they are responding to study suggestions.

Do you ever wonder if the instructor is using the adopted textbook? When selecting materials, course designers can make more informed adoption decisions by analyzing usage across terms, cohorts or instructors. From a global perspective, administrators can track usage trends by department or institution-wide.

Equal to the importance of analyzing student or department usage, content creators can use the Engagement Dashboard to analyze aggregate usage of their content. When combined with outcome data, this helps the author refine the work to ensure each learning objective is being communicated most effectively. This continual, data-driven refinement of the text helps ensure students receive the best content possible.

These are just a few of the use cases we've seen for the Engagement Dashboard. By providing easy access to student engagement data, we feel the Engagement Dashboard unlocks new opportunities for educational leaders to impact both the effectiveness of their program and increase overall student success. Contact us to see how a partnership with VitalSource means more than just putting content in the hands of your students.


---

WEBINAR RECORDING:
View Daniel's webinar, Using data for student performance and engagement insight, where he will give you a new way to think about your student's course materials, and how greater engagement leads to increased student success.