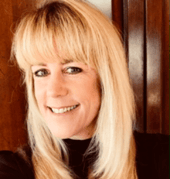 It is an exciting time at VitalSource as Kathleen Hayes, a 25-year ed-tech veteran, has joined us as our new Director of Institutional Partnerships. Kathleen will lead our U.S. and Canadian higher-education efforts, for both VitalSource and Verba, to grow Inclusive Access and to accelerate affordability and the digital revolution in course materials. Kathleen has built a career driving affordability in course materials, coming from zyBooks, helping to improve learning through digital learning solutions, and prior to that, Verba, where she focused her efforts on providing tools for colleges stores to grow affordability initiatives.
Her experience has given Kathleen a deep understanding of the needs of higher-education institutions and the constantly evolving marketplace for course materials. She is bringing to VitalSource a passion for the independent college store and its importance as the center of course material knowledge on campus.
We've been leading the Inclusive Access revolution for years now and we believe the time is right to accelerate these efforts through what Kathleen likes to call 'intelligent' Inclusive Access. We are excited to have Kathleen's energy, passion and experience. It pairs well with our clear focus to grow student day-one access to affordable eTextbooks and courseware.
We believe fortune favors the bold and we are ready to make some bold moves. Whether you're a school, campus store, publisher or potential team member, come join us!