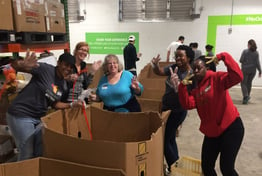 In an earlier blog post, we discussed ways for your organization to get involved in your community and how to maximize any philanthropic efforts you undertake. In this post, we give examples of how we at VitalSource took those five ways to get involved in the community to make the most of our time and energy.
1. Survey your employees - see what matters most to them and focus your time there.
At the end of the year and to make preparations for the year to come, we distribute a 10-question survey to determine where efforts should be focused. This year we found that animals, child welfare, homelessness and the environment were our top four. Based on these results, we decided to do an event each quarter pertaining to these four areas.
2. Once you have narrowed your focus – start your research!
On VitalServes, each committee member creates a proposal based on their research and votes on the best organization/event to participate in each quarter. Ideas that did not become events, are collected and added to an idea bank.
3. Decide how you're going to participate: time, money, goods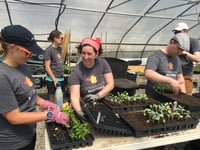 In Boston, volunteers from all areas of business, worked together to pull weeds and plant vegetables at ReVision Farms--an urban community farm which provides healthy foods to thousands of needy families in the Boston area. At the Raleigh office, we hosted a coding boot camp called RailsBridge, which our engineers helped orchestrate.

Donating goods is where we really found our sweet spot. We had several events throughout the year where employees could participate by bringing supplies into the office such as a school supply for our Back-to-School drive, or toys for our holiday toy drive for Toys-for-Tots and Horizons for Homeless Children.
Sometimes goods and time are not the best option and a monetary donation is the best solution to giving back. This was the case with helping the victims of hurricane Harvey. VitalServes donated $1,500 to the Hurricane Harvey Relief Fund to help the families in need.
4. Make some goals.
Each event we organized throughout the year has a goal associated with it. For our participation in the St Jude Run/Walk in September, our goal was to raise $5,000 for the race. Our committee discussed recruiting at least 10-15 employees to participate. In the end we had about 25 employees, friends and family race on the VitalSource team and met 95% of our fundraising goal.
5. Have fun with it!
VitalServes has been a fun way to bond with colleagues and make a real difference in our communities.