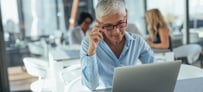 At VitalSource, we believe in delivering a great user experience on all of our platforms, which means making our solutions easy and efficient to use. I'm excited to share with you some recent enhancements made to our Sampling Portal.
As a former publisher sales representative, I used Sampling as a tool to prospect leads and qualify opportunities in my territories. After a sales call, I often concluded with a line like, "I'll send you the e-samples for the courses we just discussed, and I'll follow up with you after you've reviewed the content." In the Sampling lifecycle, I pushed out the content for instructors to review. However, I didn't know if my instructors ever opened their sampled titles, or if they spent any time reading the content. When I called back, it was like starting the same conversation all over again.
Now there's a better way to sample—and that's with engagement data! I'm excited to share with you our recent enhancements made to our portal, aimed at being more efficient in identifying and closing business.
Enhancements to the Sampling Portal include:
Simplified workflows and personalization that allows admins to quickly approve or deny in bulk, sort and filter lists by region, select all, and create new admins. You can work your entire VitalSource ecosystem from one place, saving time and working efficiently.

We've enhanced the reporting on engagement data to track every sample from recommendation to review as well as the activity of each instructor. You can now monitor the number of page views, time spent, annotations, and last engagement, which will takes sampling one step further as a sales tool. Now reps can know how content is being used and more effectively close business by quickly targeting opportunities in their territories.

Manage your sampling program though your CRM with a new release this month of powerful APIs that will let you fully manage your sampling program from end to end within your CRM.
As a publisher sales rep, you can now be more consultative and target qualified opportunities more quickly and efficiently. For the full details about these new enhancements, check out a recent webinar here.