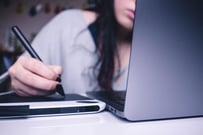 Higher education in the United Kingdom is changing, and a number of factors are contributing to this. The steady rise in tuition fees means that students are beginning to view university in a different light. Gone are the days when higher education institutions are simply viewed as "cathedrals of learning." Instead, modern students have an increasingly transactional view of university. Student satisfaction and value for money is high on their agenda, and moves are being made by industry bodies in order to evaluate both these areas for prospective students.
In 2017, the Teaching Excellence and Student Outcomes Framework (TEF) standards were updated, bringing with them a new standard for measuring the quality of higher education institutes. Universities are now ranked gold, silver, or bronze based on six core metrics measuring teaching, academic support, course completion, and progression to employment. This is forcing student satisfaction higher up on the agenda for universities, and it comes at a time when non-completion of courses is steadily rising. The Higher Education Statistics Agency (HESA) has recently conducted research into the performance of higher education, and has found that the rates of non-continuation have risen steadily over the last four years in England, Scotland, and Wales. While the research cannot explain why this is occurring, it could be argued that today's students are seeking something more from higher education.
For many higher education providers, one question remains: What can be done to combat this issue and ultimately retain more students? New research, conducted on behalf of VitalSource with 184 higher education institutions across the UK, has shown students feel modern learning tools enhance their learning experience and improve their learning outcomes. The results strongly indicated the value that digital learning tools bring to students. Two thirds of students (66%) reveal that eTextbooks provide them with a greater sense of confidence towards their learning, and over half (57%) believe they contribute to better grades. In addition, 83% of students said that eTextbooks allow for more effective independent study, and 50% of students said it made them more likely to complete their course.
These results suggest that by integrating eTextbooks widely into course materials, universities may be able to make significant strides forward in meeting the requirements of TEF and ensure their students feel supported in their learning. Providing the resources that engender such positive responses from students can help institutions with their provider submissions (which also count along with the metrics towards their grade). However, the results also suggested that in order for eTextbooks to be most effective for students, universities must ensure their lecturers are supported and have the benefits communicated to them in order to get their buy-in to the programme and tie the resources into their course modules.
The trend for these modern learning tools is on the rise, as their efficacy is more widely understood. Two thirds of all students within the study reported that their university had provided them with an eTextbook, hinting that soon these materials will become the norm in higher education.With the right support, guidance, and innovative tools, universities can ensure that they tackle the rise of non-continuation and deliver a well-rounded and modern learning experience for all of their students.