In the lead up to 2020, the adoption of technology in institutions was steadily growing. But despite seeing the value of scalable solutions, many leadership teams were waiting for widespread demand to emerge from faculty and students. They allowed individual lecturers to champion course-specific incentives, working alongside IT teams and learning designers, but held back on institution-wide projects that would disrupt those lecturers who were more reluctant to make the change. Students with print preferences were largely protected from a wholesale move to digital resources.
In terms of the adoption curve, which is used to visualise the acceptance of technology over time, digital learning in higher education was largely left in the hands of the innovators and early adopters. These groups are driven by an intrinsic enthusiasm which makes them fundamentally different from mainstream users, the other side of the chasm, who are looking for clear benefits.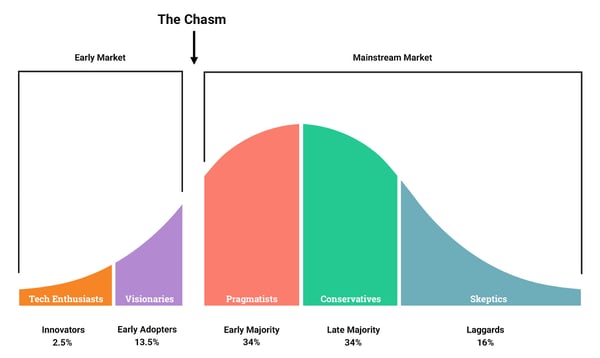 As a result of the global pandemic, technology has now become a necessity in higher education. From Australia to the UK, institutions have turned around the delivery of institution-wide solutions in five months, instead of the five years that they had planned for. For most universities, this pivot to digital has been an enormous change management operation. Institutions have reallocated budgets, overhauled delivery systems, and upskilled teaching staff. But ultimately, the success of their digital learning strategies depends on how effectively they generate student acceptance. This means moving beyond the early adopters, and influencing the attitudes and behaviours of the majority.
Despite being dubbed the digital natives, and using technology in everyday life, many students have reservations about learning technology. For them, now more than ever, university is high risk, high reward, and they do not want to be part of an experiment. So far, research and reports suggest that though they are increasingly aware of the need for online education, they still have reservations about its success. Students we spoke to referenced poor experiences in the early days of remote teaching.


"If it's all online again I'm really not looking forward to that… it'll have a negative impact on the overall learning."
Second Year Student, PPE
So how can a university communicate and support its digital learning strategy to ensure that their approach appeals to the majority of students?
Appealing to the Early Majority – the Pragmatists
1. This group may be less engaged with technology – and may also have lower expectations of technology.
Many students consider even stalwarts such as learning environments and lecture capture to be advanced technology.
HEPI Advance Student Survey 2020
To increase their acceptance levels, give your students a gentle introduction. There are plenty of solutions that allow them to remain within their comfort zone while supporting remote learning. Use technology and interfaces that feel familiar. It helps if platforms and resources can be seamless accessed in a consistent way through their online learning module, avoiding the need for multiple passwords.


2. Begin by delivering solutions that match with their immediate pain points rather than focusing on long term opportunities. Many universities already use digital textbooks, for example, which provide students with convenient access to the learning content that they need even when they can't get to the library. Some universities have introduced chat bots which provide students with immediate answers to their queries when regular support services are not available. This can be less uncomfortable for students to use than alternative approaches that students described.
'They've given us their personal numbers to call if we are struggling… But you know you are calling them at home. It feels a bit invasive."
Postgraduate student, Journalism


3. Don't assume your students are one step ahead of you. Even those who are tech-savvy they are not experts in using technology for learning. Digital skill sets can be a competitive advantage for your university. But when transitioning to online learning at speed they can be neglected, leading to student frustration, poor outcomes, and even non-continuation. Communication, group work, and research are fundamentally different in an online environment. Developing these skills will allow your students to fully engage with their learning – and boost their employability in the remote working environment of the new normal.

"A lot of people have disappeared because they are not used to communicating online... I think if the students are required to be actively communicating there needs to be some guidance from the university."
Postgraduate Student, Microbiology


Leveraging the pragmatists
Pragmatists can form a bridge between your early adopters and the rest of the student body. They are more likely to be able to influence the more cautious, conservative late adopters than the institution itself. A number of universities use a peer-learning approach to introduce new students to technology. More experienced students pass on their tips and enthusiasm, lessening the learning curve and improving student experience.
So, once your pragmatists are convinced of the value of learning technology, they can become effective advocates – although you may find that they focus on different benefits from the official messaging!
"Having recorded lectures is a game changer. Say you woke up two minutes before the Zoom! And I get distracted easily but even if I drift off I can check it back afterwards. It means my lecture notes are much better."
Third Year Student, Biology


Laggards – or Locked out?
The slowest group to adopt new technology are the laggards. In the case of education technology, it is important to be aware that it may not be their attitudes that are the barrier. A student who lacks an appropriate device or reliable wifi is never going to become a digital learning convert. Nor is a student who has accessibility requirements that are not being met.
7% believe that COVID-19 had increased the digital divide between those who have access for technology for digital learning and those do not.
Pearson/Wonkhe Student Expectation Survey 2020
Final tips
Generally, the progression of adoption is gradual, so a sudden pivot is a huge challenge, and institutions should expect push back from students in the early days of the transition. This can be exacerbated by poor implementation. Giving students a negative experience, even in an isolated area, can set back acceptance levels. Whether it's selecting technology that does not support the pedagogy, infrastructure weaknesses (including IT and academic support services) or even more fundamentally, failing to ensure that every student can access the tools they need. Ensure you have effective feedback channels that can help you rapidly identify problem areas. These might include learning analytics that measure engagement alongside more qualitative channels for student feedback, or even including student voices on your project implementation groups.