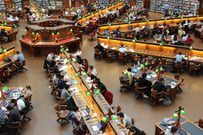 Findings from the Higher Education Statistics Agency released in February 2019 show that the percentage of full-time first degree students coming from state schools in the UK dropped in the 2017–2018 academic year. The decrease from 90% to 89.8% sees the first dip in this number for eight years. With the number of entrants from low participation neighbourhoods rising from 11.4% to 11.6%, how can higher education institutions ensure their widening participation initiatives continue to benefit students from disadvantaged backgrounds such as those from lower income families, people with disabilities, and some ethnic minorities?
Across the university sector, the topic of widening participation is tied to not only student success, with state-educated students being a third more likely to get a First or 2:1 "compared to their privately educated counterparts with the same grades on entry", but also funding. Amidst conversations of a drop in tuition fees, of the current £9,250 fees they receive from every student, Russell Group universities are spending around £1,000 on "widening access and support for students from traditionally underrepresented groups". In 2016/2017, there were 2.32 million students studying across 162 higher education institutions in the UK. If all universities and colleges followed suit, £2.32 billion could have been allocated to attracting students from diverse backgrounds. But this raises the question of what widening participation funding should be put towards, no matter the true amount.
One avenue that has proven benefits when it comes to aiding those from underrepresented backgrounds is implementing a digital strategy. In late 2017, Shift Learning surveyed students from 148 universities to explore the benefits and challenges of eTextbooks for different student groups. The research found that of 979 students, those who received free school meals or pupil premium, carers, and those with competing work responsibilities were more likely to agree with statements relating to increased academic (72%) and employability (54%) confidence compared to their peers (64% and 39%, respectively). This suggests that eTextbooks provide valuable support and confidence for those with additional needs. Without the provision of eTextbooks by universities, students who received FSM or pupil premium are less likely to believe they would have bought new print (41%) or digital (33%) copies compared to their peers, and more likely to have delayed purchasing or reading the content (73%). This suggests that institutionally provided eTextbooks ensure additional support and access to economically disadvantaged students.
Having a digital strategy and programme implemented can also be included in TEF provider statements, with institutions providing "outstanding physical and digital resources [that] are actively and consistently used by students to enhance learning" being awarded Gold ratings, benefiting students in more ways than one.