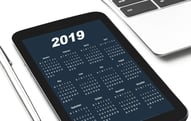 There's no doubt that the fallout from the TEF review, the Augar report, and the uncertainties of Brexit will continue to dominate the minds of higher education leaders for some time.
However, important and far-reaching though they are, they are also detracting attention and resources from the everyday pressures faced by UK universities and colleges. Pressures like the fundamental issues of how to attract and retain students as well as how best to modernise the learning environment to meet their expectations.
For students, attending a higher education institution is about many things, including acquiring new skills and knowledge, getting to know your own self, meeting interesting people, changing your career, or even changing your entire life. For those involved in managing a higher education institution, along with helping to shape and support the next generation to achieve great things, it's also a business. And to grow, it needs to attract, engage, and retain its customers: the students.
This is not an easy task, but it doesn't have to be a losing game.
Many institutions have looked to technology to deliver efficiencies and cost-savings as well as opening up new pedagogical approaches. But this approach can be regarded as problematic. It requires new skill sets and can tie up resources, as well as facing resistance from a valued academic team who are understandably reluctant to take on new systems and processes. It's also seen as a long-haul option—there are lengthy timescales involved in building new physical infrastructures coupled with no increase to student kerb appeal on open days.
But does the implementation of tech have to be cumbersome and slow? Not necessarily. With the right support and tools, technology can have the potential to provide quick wins.
For example, the British and Irish Modern Music Institute (BIMM) transformed their learning environment in only six weeks. BIMM had two needs they were looking to address: improving student achievement and retention. While the intent to move toward a digital blended learning solution had been a long-term project, the desire to enhance the student experience for the upcoming term made Summer 2018 the perfect time to move forward with an e-learning programme.

Here are 5 key lessons from their experience:
1. Take positive action
Jason Knight, Dean for Academic Development, led the project with energy and passion. There was no doubt that this was a project he was fully committed to. He had a sense that there was a better way of doing things.

Jason realised he would need to find a provider who could support a more hands-on approach, and he was determined to find a solution that would meet BIMM's timeline and budget. His enthusiasm and positive approach was key. It energised his project team and he brought them with him on the journey.
2. Involve your staff early
Jason turned to VitalSource and found that VitalSource Studio® was the perfect choice for BIMM's needs. It enabled them to create their own impactful learning materials and publish directly to VitalSource Bookshelf® with ease. He knew he would need a dedicated team to help with the implementation, so he appointed Pat Garvey, Head of Drums, as eBook project leader.

Pat's early involvement meant that the new technology was aligned with the pedagogy, making it easy to implement. It also allowed him to anticipate how the technology might change his teaching approach. "I don't have to line up a load of videos on an external hard drive, or dive in and out of any video-sharing platforms," says Garvey. "I can literally refer to the videos that we created for the topic, which we then embedded within the eBook, and use them right there and then. And, perhaps more importantly, so can the student, which drastically improves the student experience."
3. Be ambitious
Despite the short time frame, BIMM not only ensured that eBooks were seamlessly delivered to their students at the start of their course, but they also created their own eBooks, complete with audio and video content. The VitalSource Studio simple authoring tool allows enables institutions to include interactive elements—such as video clips, audio, and even slideshows—which help to engage students with the content.
4. Use the network effect
Jason notes that forcing reluctant staff to use solutions is counterproductive and slows a project down. He recommends identifying those users who are excited by the project and letting them demonstrate the benefits. Even a quick win project like this one takes time to bed in. "I think the secret is not to try and force it on everyone," he says. "The secret is to get a few key players that are very keen to adopt and get them to lead the way and show how it's helped them."
5. Lean on your partners
Technology partners are often willing to provide more than you expect—particularly if they know your timelines from the outset. The VitalSource Pro Services team helped save BIMM time by creating templates for the content within Studio. This didn't mean that BIMM gave up control, it was a more supportive approach. Says Garvey, "Once they had uploaded the existing content, we were able to go in and add new content, videos, audio, and new chapters because it was all there. Had we had to do all of that, it would have been a far more stressful exercise, and no one would have gotten much sleep."


Now that the programme is in place, BIMM continues to use VitalSource to keep the pace moving with Freshers Week events that will get students up and running and ready to go.
BIMM's experience shows that with the right support, energy, and commitment, tech can provide quick, far-reaching benefits to HE institutions. "The key is to explore the software and have a very clear plan," says Garvey. "Just embrace it and enjoy it, because once you start putting it together and understanding how to join the dots, it's actually very simple. The trick is then managing a timeline with that level of production involved—our course notes are of a sector-leading, world-class standard, and VitalSource gave us the ability to match that standard with the quality of their product and the professionalism of their team."
And once your project is complete, focus on the positives and shout about it! For more information on BIMM's project, read the full case study.