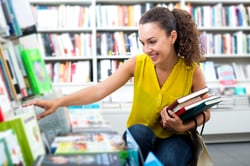 I have spent my entire career working with college and university campus stores to promote access to affordable course materials for all students. The academic success of college students means a lot to me and helping them have the textbooks and other learning materials they need - when they need them - goes a long way in promoting that success. It is something I am truly passionate about.

And that's why I'm excited about coming to work at VitalSource and continuing the work the team here has started and advanced with campus stores to enable student achievement. As the manager of campus store relationships for VitalSource, I will be working with campus stores across the country to ensure they have the tools to be successful in their missions to support student learning.
Our college students are facing serious financial pressure and making some, quite frankly, unacceptable sacrifices to make their degree possible. Often, it's the course materials that don't make the cut when students are looking at, not just the cost of college attendance, but the overall cost of living. We know students who lack access to their required course materials on day one of class are at a disadvantage, but the reality is, a lot of our students fall into this group.
I have been fortunate enough to have been a part of initiatives at the campus stores where I worked that were designed to combat these issues students faced. At my last stop before VitalSource, I was the director of the Loch Shop at Clayton State (Ga.) University. While there, we implemented an "Inclusive Access" program that saw students save significant money and ensured they had access to their materials before classes started. Faculty loved it, students loved it, and, at the bookstore, we loved it. In the end, students were winning, and that is the ultimate gauge of success in our business.
These are the types of programs I am going to be working to bring to campuses everywhere and I can't wait to help spread affordable access to as many students as possible. If you'd like to chat about how we can work together to help your students, please don't hesitate reach out.