I'm a book lover. I enjoy curling up with a great book and my wife owns and manages a lovely independent bookstore on Boston's North Shore. I spent the first half of my 40 years in the education industry publishing print textbooks and still have many of them displayed proudly on my shelf at home.

The world of education is moving inexorably towards digital products. Also of course, publishers are caught in a Catch 22 – they know they need to move to digital, but a substantial amount of revenue still comes in from print.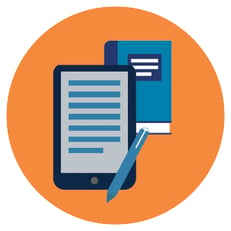 The problem really comes down to the fundamental difference between producing content for the page vs. creating interactive digital learning experiences. A well-designed digital product needs to be responsive and usable on all of the various screen sizes and devices available today. Interactive content and rich media can add a great deal if used thoughtfully and integrated with the content. What's more, a good digital product needs to be engaging and visually appealing. Finally, of course, it needs to be structured and marked-up to support accessibility standards; something few conversion processes actually achieve.

Happily, over the past several years, a wave of really user-friendly and effective digital-first authoring tools have exploded onto the market. VitalSource Content Studio™ is a good example of this new technology. These cloud-based platforms are as easy-to-use (if not easier) than Microsoft Word and make it possible for authors and subject matter experts to write directly in the tool. They also support a distributed workflow. VitalSource Content Studio™ allows for the creation of content that is fully accessible, compelling, and polished.

Adopting these new tools dramatically changes the game for product development and production. Costs will plummet and time-to-market will accelerate dramatically. Products will be more effective and engaging and learning will be improved. This may just be the tonic that publishers need at this difficult time in the industry.

The time to put the old print textbook behind us is now. It's time as well to rescue your authors from their dependency on Microsoft Word and move them to a new a better way to create and produce digital content.

Meanwhile, I'll keep buying my trade books in print format, thank you very much.


---

WEBINAR:
Join Chip on Tuesday, April 18 at 11:00 AM ET/4:00 PM BST for the webinar Turnkey Solution for Interactive Digital Content Creation , where he will talk through how to convert your content files from flat to truly engaging.