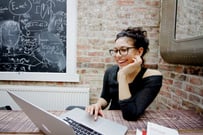 Institutions across the country are looking for ways to reduce the cost of education. One of the many options available to do this is open educational resources (OER). However, institutions frequently report challenges with OER discoverability, accessibility, and ease of distribution. With careful planning and the right tools, OER can be part of your digital course materials program—and your campus can get the same benefits as those offered by traditional content.
During a recent webinar hosted by VitalSource, panelists discussed tips for making OER easy. Panelist Gerry Hanley, PhD shared his insights and experience, discussing how to begin using OER and partnering with VitalSource to deliver quality, affordable learning materials. Hanley is assistant vice chancellor for academic technology services and executive director of MERLOT for the California State University, Office of the Chancellor.
"It is essential for you to begin with understanding your institutional context," said Hanley. "When you're thinking about adopting OER, it's just not about the resource itself, but it really needs to blend into the campus culture—the way the faculty works and the needs of your students become an essential understanding."
For the California State University system, that context is nearly a half a million students with approximately one-third of them requiring major financial aid. 11 percent of these students experience homelessness and 41 percent experience some type of food insecurity. Hanley says the next important step is thinking about what is affordable for students based on your student population—not what the learning materials cost.
"Our mission is to provide a quality education to our students so they can really be upwardly mobile and their education can be a critical factor for growing their economic and personal success," said Hanley. "The cost of textbooks can become a critical institutional strategy for us being successful."
For CSU, through their Affordable Learning Solutions (AL$) program, saving students $170 per semester, which in some cases can amount to just one book, comes to a total savings of $1 billion. "Your affordable learning solution strategy really becomes a financial aid package for your students," said Hanley.
This institutional strategy that CSU has employed to provide students no cost and low cost materials that enable their successful learning and course completion brought them to VitalSource. VitalSource fills the requirements that CSU has for their learning solutions including analytics, accessibility, easy distribution, and customizable content for faculty and students.
"These requirements when we're looking at what enables all our students and what enables our faculty to be successful ... these are the requirements fulfilled by the VitalSource product," said Hanley.
The webinar discussion also included live demos, insights from VitalSource staff, and a Q&A discussion. To learn more about how to start using OER resources as well as how quality, affordable, and accessible learning materials can lead to successful student outcomes, watch the full webinar.