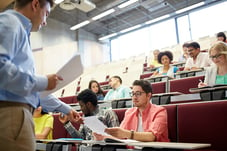 Ever since 'learning gain' became one of the major criteria included in the teaching excellence framework (TEF), the question of how students learn and how we can measure universities' support in their learning journey has become more prominent. To gain more insight into this, VitalSource organised a roundtable discussion with senior figures in higher education, in partnership with Times Higher Education (THE), to discuss how they are approaching this key measure of achievement.
But what is learning gain exactly and why should we pay close attention to it? The Higher Education Funding Council for England (HEFCE) defines learning gain as an attempt to measure the improvement in knowledge, skills, work-readiness and personal development made by students during their time spent in higher education. This can be measured by means of standardised tests, grades, self reporting surveys and other qualitative and mixed methods.
A number of projects have been kickstarted to develop an evaluation measure of learning gain, one of which saw the HEFCE initiating 13 projects in partnership with 70 universities and colleges. Measures used in these projects cover three aspects of learning, including traditional measures, such as critical thinking and problem solving. As well as this, behavioural measures are used to examine students' activities, as well as affective measures, which look at how students feel about and approach learning. Measuring learning gain in this way is intended to not only help us understand the impact of higher education, but also to enhance teaching programmes and student support.
This may seem straightforward, but learning gain measurement is not as easy as it sounds. As Leicester University's Professor Jon Scott argued, if you were to for instance compare input qualifications of a student with their final degree classification, you could find that a student with A* results at A level who graduated with a 1st class degree could show less learning gain than a student achieving a 1st but entering with BBB results. According to Professor Scott, this means there is very limited capacity to compare performance and development, even in terms of a purely academic journey. As students don't start and end higher education on a level playing field, there is simply no clear-cut way of measuring what students know when they start life at university. This is further complicated by the fact that this country has approximately 107 higher education qualifications that all have different entry requirements.
As the summary of our roundtable discussion in the THE shows, there are many looming challenges, and the current proxies used to measure learning gain can be improved upon. As some of the key figures at the roundtable suggested, it will be interesting to see how the pilot projects in the field at the moment can help in developing more evaluative assessments, and perhaps provide a better proxy of learning gain.
Read the full article about our THE roundtable discussion.