This post appeared in its entirety in University Business.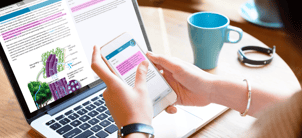 There is no doubt that today we live in a digital age, with our lives seemingly governed by the provision of connected, mobile devices. Reports indicate that teenagers check their mobile phones 150 times a day, interacting with each other all day but almost entirely through a screen. To say there is a daily reliance on digital technology would not be an over-statement.

Students of today have been brought up with online learning, with children as young as seven telling us they prefer learning on tablets. It should come as no surprise then, that as the world of higher education grapples with attracting and retaining students in an increasingly commercial environment, the provision of cutting edge digital services like eTextbooks will play an important role in keeping the traditional university relevant and engaging to a modern cohort.
THE POWER IN THEIR HANDS
Every day, university students head to lectures with a staggering amount of computing power in their hands. A survey conducted by Shift Media of 866 students from 131 higher education institutions in the U.K. confirmed that students use their devices to support their learning. 100 percent of respondents surveyed owned a digital device with 89 percent taking them to lectures and 81 percent using them for last minute studying or to verify something in class or before submitting an assignment. A student at Plymouth University who was provided with a digital copy of their textbook explained, ''I mostly use it on my phone when I have a query in my head and I just want it to be then and there, over and done with."
With a clear appetite for digital learning and an environment where immediacy is the norm; university materials need to be available for students anywhere, at any time and on any device. Portability is a huge benefit of eTextbooks, with students having access to all their learning material, with associated enhanced learning functionality, through their devices without having to lug around the text book equivalent of the Encyclopedia Britannica. As a student from Edinburgh Napier University who is studying computer science in Year 1 commented: "It's quick and easy to access information and the interactive functions that help me discuss with my teacher or fellow students. It's like having a classroom you can carry around, which is very helpful."
However, in an environment where every student penny counts, making the eTextbook available when not connected to mobile data or WiFi is crucial to their success. By providing eTextbooks that can be cached on a device, students do not need to worry about data costs when they are off campus.
This kind of anywhere access not only drives student engagements and empowers them to take charge of their learning, but has also been found to reduce stress associated with the pressures of studying. Without needing to remember which textbooks to bring, or queue in the library to get hold of a single copy of a text, it is no surprise that 75 percent of survey respondents said that stress reduction was one of the top two reasons that they enjoyed learning with eTextbooks.
This flexibility also benefits part-time students creatively fitting their reading in between meetings, and medical students on placement, who need an immediate answer. As the cost of student learning continues to increase, it is likely more and more students will demand the versatility digital learning can support.