Since the conception of VitalSource, accessibility has been something we've held with utmost importance, but it's also something we know can always be improved upon.

In recent years, we have continued in our efforts to not only ensure our technology is as accessible as possible, but to also remain transparent in these efforts. It's this ongoing effort that makes honours such as being recognised as the winner of the 2019 Daisy Consortium Award for Accessibility in Publishing even more special to us.
Our latest update—the recent release of content controls in the Bookshelf® online, mobile, and desktop apps—means that readers can now:
Choose from four different text sizes

Select from various fonts available, including OpenDyslexic

Easily alter the colour of their screen to suit their individual needs

Choose from three different margin sizes

Pick from three line height options

Magnification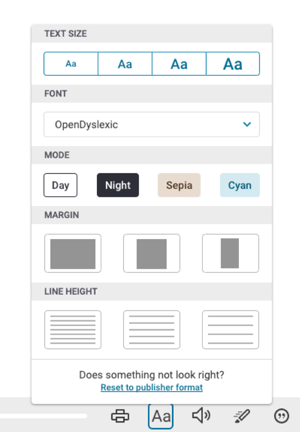 Empowering readers to have control over how they view their content not only removes the need for reliance on others, but also improves their overall reading and learning experience.
Earlier this year, we also introduced an accessibility icon in our store, so that students using VitalSource do not have to ask for further assistance. In the VitalSource store, students can see whether the content will accommodate their needs before they purchase. Because we make this information available through our content catalogues, this also means publishing partners, institutions, and resellers can indicate content accessibility features on their product detail pages.

Not everyone has the same sensory abilities that the majority enjoy, so the Web Content Accessibility Guidelines define how to make content more accessible to people with disabilities, like including features such as text alternatives and keyboard functionality. Content with robust accessibility support, or with clear descriptions of what accessibility options are included, can be adopted more readily by institutions. With improved accessibility features and transparency, everybody wins: students have an easier purchasing experience and can learn more efficiently, and institutions can provide more support to students with accessibility needs and adopt more content.
Learn more about our accessibility features here: https://get.vitalsource.com/accessibility/intl