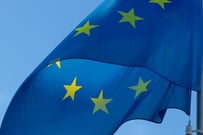 "So far there is no long-term decision or reciprocal deal on how UK students in the EU, or EU students in the UK, will be treated post-Brexit." With the future of the United Kingdom's position in the European Union still unclear, institutions and professional bodies are speculating on the impact leaving the EU may have on widening participation efforts, particularly in terms of economic slowdown.
In 2018, there was a reported rise in applications from EU students, with figures from UCAS showing a 3% increase from the same point in 2017. This trend, along with recent news that international students will be given visa extensions to look for work, seemingly indicates that as a country, the UK is making preparations for its non-domestic student base post-Brexit. But how do we continue supporting students from disadvantaged backgrounds within the UK?
"Economic uncertainty weighs heaviest on those who are most vulnerable in society." It is imperative that the key players in the higher education landscape work together to ensure attending university is still seen as a viable option.
With books and university equipment, estimated to cost £60 per month on average, institutionally provided textbooks can be hugely beneficial to students who sit within the widening participation bracket. Findings from a Shift Learning report in 2017 state that without the provision of eTextbooks by universities, students who received free school meals or pupil premium are less likely to believe they would have bought new print (41%) or digital (33%) copies compared to their peers, and more likely to have delayed purchasing or reading the content (73%). This suggests that institutionally provided eTextbooks ensure additional support and access to economically disadvantaged students.
Having a digital learning programme implemented could be the factor that tips the balance between students from underrepresented groups applying for and successfully completing a university education or not. Digital resources can also raise confidence, with 54% of students who received FSM or pupil premium and 56% of carers agreeing that they feel more confident about employability after using eTextbooks on their course. With individuals from lower-income backgrounds often compromising on the employment they accept after university, this improved confidence can continue to benefit them post-graduation and post-Brexit. Embracing technology now can help students succeed in tomorrow's workforce—no matter the impact of Brexit.