What's the first thing you do when you get a new phone? How about a new computer?

Customize!

Customization and personalization are innate in today's digital habits. Some people like to use certain shortcuts, install special plug-ins, change their settings.

We all look for ways to power use our digital experiences to ensure that all actions are quick, efficient, and that we get the most out of every interaction. As we started to think about this habit, we at VitalSource wondered how we could apply it to Bookshelf. VitalSource Bookshelf is incredibly customizable already: You can name your highlight colors (never forget your color coding system again!), organize your notebook and share your annotations with your study group, export your notebook to OneNote to keep all your notes in one place, and read offline.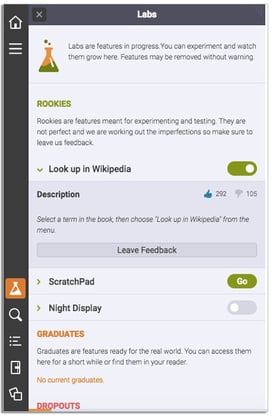 But we are taking it a step further with Bookshelf Labs. Labs allow for the addition of power-user features to your Bookshelf experience. We will alter features based on the comments and suggestions provided by our users. Want to turn on a dictionary or look up in Wikipedia function? Go to Labs, and toggle them on. Try out night display and hate it? Turn it off! This is your Study Center

We see our role at Bookshelf as a delivery mechanism for learning. You know how you learn best, so we endeavor to provide the tools for your needs you can have your "this is the best thing that ever happened to me" moment.



Check out our new labs coming this month:
Text to Speech – let your book read to you!
Embed a YouTube video in your Notebook
Dictionary— Select a word, get a definition
Unit Converter—Select a Unit, receive popular conversions
Comment on our existing labs:
Scratch Pad—take freeform notes
Night Display—use our color filter for easier reading
Look up in Wikipedia—select a word or phrase, and open a new tab to Wikipedia. Why Wikipedia, see our previous post, Wikipedia look up now available on Bookshelf.