Since its launch in 2016, VitalSource Content Studio™ has become a valued tool for creators of learning content in higher education, K12, and corporate training—content such as IT training modules, leadership curriculum, an interactive workbook on human anatomy, computer engineering courseware, and more.

Using VitalSource Content Studio, content authors easily create EPUB 3 content that is:
Responsive on desktop, tablet, or smartphone devices
Compliant with accessibility standards (WCAG 2.0, level AA)
And rich with multimedia and interactive activities
With VitalSource Content Studio's globally-applied content styling, authors can focus on authoring and not worry about design or layout. Content entry is simple with no HTML or complex markup requirements, and built-in tools support editorial review through assignment, commenting, and approval.

And now, as of our latest 2.0 releas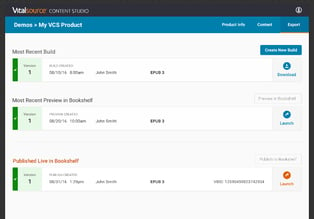 e, authors can easily and securely publish their content from VitalSource Content Studio directly to the world's most popular eReader, Bookshelf, with one click. Need to make updates or revisions after your content is published? No problem. Make revisions in VitalSource Content Studio and immediately re-publish to Bookshelf.

In addition, if you need to import existing content into VitalSource Content Studio or develop functionality that better suits your audience, our Professional Services team can provide you with a wide array of design, development, and project management support. Need to connect with gradebooks, learning management systems, or adaptive platforms? Our integrations team can set that up.

We are excited about the wide array of educational experiences that can be quickly and easily crafted in VitalSource Content Studio and delivered through Bookshelf®! If you'd like to give it a test drive, please contact us for free trial access.

WEBINAR:
Join Lorie on Tuesday, April 18 at 11:00 AM ET/4:00 PM BST for the webinar Turnkey Solution for Interactive Digital Content Creation , where she will talk through how to convert your content files from flat to truly engaging.