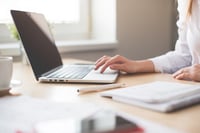 Designing courses can be a challenge, especially for an online environment. There are many tasks involved, such as defining competencies, identifying appropriate content, creating effective learning activities, and distributing the course. After students take the course, you may be left wondering, was this course effective? For students, taking an online course can be challenging as well. Students can be overwhelmed by learning different platforms, finding the assigned content, and interacting with faculty and peers. There is no magic bullet. Or is there?
VitalSource is best known for its flagship product, Bookshelf, the world's #1 digital content platform. Did you know VitalSource offers much more to support the lifecycle of your course? With VitalSource, you have a complete course solution with effectives tools for:
course development and delivery
course instruction
study tools for students
engagement data and analytics
In addition to the tools provided within Bookshelf, your institution can use VitalSource Studio to author original content or to deliver OER and use our adaptive study tool, Bookshelf GPS, powered by Cerego®, for a personalized learning experience for your students.
Join us on April 11th for, Best Practices to Support Your Course Lifecycle with VitalSource, and we'll show you how our suite of solutions can help you create engaging learning experiences for your students. You'll finally be able to answer 'yes' to that question, 'was my course effective?'