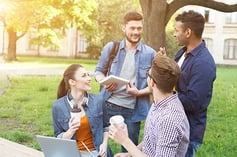 Across the nation, a growing number of colleges and universities are looking for innovative solutions that can help lower costs and raise student achievement.

One of the many challenges in higher education is the cost of course materials and textbooks. Print textbook costs have risen 82 percent over the last decade – that's more than three times the rate of inflation. These high costs have led a growing number of students to delay or avoid purchasing required course materials, even though they know their grades will suffer as a result.
This problem hits first-generation and low-income students even harder. A survey from the National Association of College Stores (NACS) found first-generation students spend 10 percent more, acquire 6 percent fewer textbooks, and end up paying 17 percent more per textbook than non-first-generation students. Given the fact that these students have significantly lower graduation rates, these additional financial burdens do considerable damage to the American ideal of equality of educational opportunity.
VitalSource, and our publishing partners, recognize the important role affordable course materials play in leveling the playing field for postsecondary attainment and completion. In support of this goal, VitalSource is pleased to announce a new partnership with Blackboard, Inc. to help improve college affordability by expanding access to lower-cost digital materials.
Starting this spring, VitalSource Inclusive Access tools will now be available within Blackboard's Learning Management Systems (LMS), Blackboard Learn and Moodlerooms, at institutions across the United States. This means that more students will have the opportunity to gain immediate, day-one access to their required textbooks and course materials through an interactive, digital platform – at below-market prices.
By being Blackboard's only integration for Inclusive Access tools, VitalSource will now be able to almost universally remove access codes and other operational burdens that campus stores, publishers and institutions have dealt with, making it easier for all partners invested in student success--faculty, institutions, and content creators--to improve student outcomes.
Additionally, institutions will have access to VitalSource's leading analytics dashboard in Blackboard Learn and Moodlerooms, providing new insight into student learning and study habits.
VitalSource and Blackboard, Inc. have a shared mission of promoting student success. By joining forces, we can expand seamless delivery of more affordable digital content and ensure more students have access to the content they need on the very first day of class. As a result, we can help save students as much as $300 a semester, eliminate unnecessary barriers to postsecondary access, and help raise the bar for student achievement at institutions across the country.
To learn more about our work together, and read more on Blackboard's blog.