For 20 years, VitalSource® has been providing the leading content delivery platform in education and corporate training. In those 20 years, we have grown from a small handful of employees sharing a Raleigh office to 225 strong with offices in Raleigh, Boston, Nashville, London and Melbourne. We'll soon have a presence in Dubai, Brazil, Mexico, amongst other regions, and with 50-plus positions being hired next year, we're extremely bullish on our team and the value we hope to bring to our customers.

There have been countless platforms, companies, and start ups in our space that never grew beyond their first few dozen employees; most of which we've seen shut their doors or transition to us over the years. I often get asked, why are we growing this quickly, and why have we succeeded when many others have failed in our space?

My answer is simple: We know how to scale our team and platform, and at the same time are incredibly customer centric.

We scaled to two billion page views last year, onboarded over a hundred new instituions this year, and we did all of this with almost no maintenance or downtime. Beyond our scale, I've seen us grow eight times over while maintaining a strong customer focus. As we've grown, this has been a challenging capability to advance.

No structure is perfect, and this year as we've been growing, we felt like it was time to get smaller and local while we were getting bigger. In direct response to getting closer to our customers, in 2017 we will have more than 25 associates outside of the U.S., with more than half of them in the U.K. We've also organized our marketing, sales and customer success groups to each have teams focused on our partners, markets, and education segments. Lastly, we keep trying to balance growth in our engineering and product teams (now at over 100) with agility. We've done this by aligning our UX, product and engineering teams with each other, and each set focus on descrete areas of our platform. Smaller teams, local and focused.

But VitalSource is about more than numbers.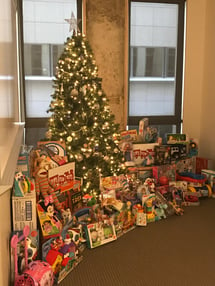 Our associates are some of the most giving people you will ever meet. Our active VitalServes group organizes numerous opportunities for our team to donate their time and talent to support local causes in communities. We recently completed Thanksgiving food drives in our Raleigh and Boston offices recently completed a Marine Corps Toys for Tots drive and a supply collection drive for a homeless children's shelter for the holiday season.

Beyond their work – at which our team is good at – our associates are extremely talented in a variety of endeavors. As you would expect from such a group of creative people, we have more than our fair share of musicians. So many, in fact, VitalSource has its own unofficial band, several of who have spent time as professional musicians. Our drummer still spends weekends performing in a popular wedding and special events band in the Wilmington, N.C. area. Another of our London-based teammates sat in as a singer with a band at Nashville's world-famous Tootsie's Orchid Lounge during our last sales conference. In addition to our musicians, we have myriad artists and even an amateur motorcycle builder as part of our team.

I am very proud of our growth over the years and how we have improved our solutions to our partners and customers. The success we have had – and hope to continue – lies at the feet of an increasingly global group of associates of whom I am even more proud of.