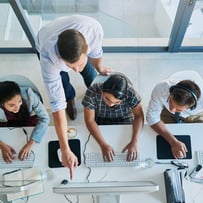 Digital course materials are more robust, interactive, and valuable than many realize. Research shows that 60% of students feel that digital learning technology—like Bookshelf®, the world's leading digital content platform—has improved their grades. Additionally, 88% believe they get better grades with interactive content vs. print.

But to maximize the impact of these tools, it takes an instructor who is comfortable teaching with digital. One way to achieve this is to learn from other instructors like Hannah Mullis, Adjunct Instructor of Communication at William Peace University.
We asked Hannah for some of her tips and insights:

How do you drive collaboration among your students?
"Group work is important in my course because they are getting to know their audience. Some of that group work is dissecting speeches in their textbook. One of the benefits of digital books is that students may forget their physical book, but they never forget their cell phone. With VitalSource®, they are able to use the app, see their eBook, and not become disengaged in the class."
What are some best practices you can offer to other instructors when teaching with digital?
"A fun tip I like to share is when you are making quizzes or tests and are taking a question directly from the book, to highlight the answer in the book. This makes it easy to pinpoint if you need a reference when grading. It also helps when you go over the answers with the class—you can show them exactly where it is without fumbling around. It's already highlighted!"
How do you gauge how your students are succeeding in the course?
"Although my school isn't digital yet, other schools have successfully implemented the engagement dashboards to track how students are reading. Being a public speaking instructor, most of their success is gauged from how they have progressed throughout the semester with their verbal presentations."
What would you tell other instructors about teaching with digital vs. print?
"It is truly a relief to know your book is always with you if you need to reference it. Many times, I have been away from my physical book, but could work on lesson plans because I had my computer."
Hannah was one of the presenters in our A Master Class in Teaching With Digital webinar, held on August 15. Other presenters included experts from the VitalSource team and a graduate student. View the webinar here and learn how to make the most of the Bookshelf tools this year.