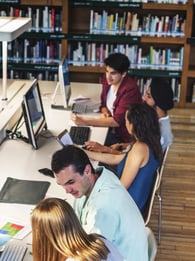 According to the National Center for Education Statistics, enrollment in two- and four-year degree-granting programs rose from 13.2 to 17 million students (an increase of 30 percent) between 2000 to 2015. That number is projected to be 19.3 million by 2026.

This is great news as more students are investing in their futures. However, it comes with a tradeoff: rising cost of attendance and future student loan debt. Based on statistics published by the College Board, the average published tuition and fees at public four-year colleges and universities increased by 9 percent in 2016 over the five years from 2011-12 to 2016-17, following a 29 percent increase between 2006-07 and 2011-12.
Just as disturbing is the increase in the cost of required learning materials (textbooks and other resources). Since 1998, the American Enterprise Institute reports a 181 percent increase in the cost of college textbooks, compared to an overall increase in the consumer price index of 48 percent. The price of "recreational books" has fallen 4.2 percent over the same time period.
Marry these two increases together and you have a significant barrier to college enrollment, persistence, and completion. In fact, 57 percent of U.S. college students in a recent study conducted by Wakefield Research for VitalSource report not attending a college to which they were accepted due to cost. Furthermore, these same students surveyed believe that within the next 10 years fewer students will complete or enroll in college because it's too expensive, despite what the statistics say.
To combat the rising costs, we are seeing students make some troubling sacrifices. In the U.S., 85 percent of students report delaying or forgoing the purchase of course materials. In Canada, that number rises to 92 percent. Of those students, more than 90 percent of students in both countries cite cost as the reason. More troubling, almost 50 percent of all students say this negatively affects their grades.
However, there are solutions to alleviate the college-cost quandary.
Look for a future blog post on how professors, campus stores, administrators, and companies like VitalSource are teaming up to help lower the costs of learning materials for students.