This piece appeared in its entirety in the July 3, 2017 edition of eCampus News.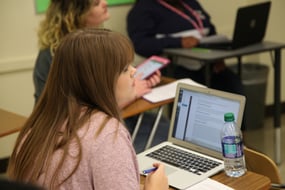 I've always considered myself a good student. I would dutifully tote textbooks and color-coded binders with matching dividers around everywhere I went, from home to school, school to after-school practices, practices to my part-time job, and then back home every evening, studying any chance I could.

Oh, how things have changed.

Now students have access to all those learning materials and resources from the touch of small, lightweight device. They can access what they need from anywhere, regardless of what device they are using. In a world of constant change and continuous improvement, finding paths that will encourage student growth, success, and retention are vital in our educational strategies. Hinds (Miss.) Community College is now a world without lost backpacks, forgotten textbooks, or misplaced notes, fostering a culture that encourages constant learning, even when class isn't in session.