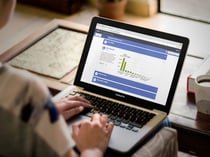 At VitalSource, we believe in a simple formula for student success: relevant content plus great instruction plus quality student engagement equals student success. We know your institution is already positioned to deliver effective instruction and your instructional designers ensure the best content is available to students, but do you know whether your students are engaging with the course materials in a meaningful way?

As the market leader in managing digital programs, we're helping institutions ensure every student in every course has their materials on the first day of class at the best price possible. Instead of wondering whether students are keeping pace with early instruction, instructors can have confidence that students have the materials they need to fully engage from day one.
Over the past year, we've used data to understand how interacting with course materials can affect student outcomes and have seen a clear relationship between the week students begin studying and their course outcome. In some cases, we've been able to predict student letter grades by the second week in the course, just by looking at engagement with the course materials. In addition to reading early, we've also seen a strong relationship between the consistency of a student's reading sessions and their course outcome.
Reading early and often isn't a new concept, but harnessing this concept with learning data is. Accessible from the LMS, instructors can use VitalSource analytics to easily see who hasn't opened the book and can monitor student engagement throughout the course; identifying potentially at-risk students. Using the VitalSource engagement dashboards, instructors can have more meaningful conversations with students by transparently sharing how their study habits compare to the class as a whole. Instructors can even see which pages that students read, leading to deeper insights into the content students might find challenging or important.
VitalSource's analytical capabilities supercharge the strategies you already know to be effective by providing insights directly to your instructors. This streamlines their course management responsibilities while also helping ensure that students take advantage of the quality, affordable content being delivered to them at the beginning of class.