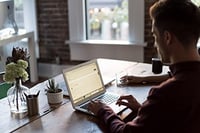 Helping publishers and educators create great content is an important part of our mission at VitalSource. Working toward this goal, we continually invest in VitalSource Content Studio, our easy-to-use authoring tool for making interactive, accessible, and responsive learning content.

To this end, we made tremendous strides in 2017! We've spent the past year listening to feedback and making the improvements you asked for, and we're committed to making VitalSource Content Studio the very best tool for creating engaging learning content for your students.
If you haven't used VitalSource Content Studio over the last year there are loads of new things you can do, including:
Style content using colors and inline icons
Create, rename, duplicate, or delete your own ebooks
Decide between a vertical or paginated question format for assessments
Determine whether students see the correct answers to attempted questions
Include questions without answer evaluation ("survey" questions)
Modify the size and alignment of images
Modify the style of ordered and bulleted lists
Publish or update content to students with one click of a button
And there are some important things that students couldn't do a year ago, such as:
Save any work they've completed on interactive questions
Print out interactive questions to answer on paper
Over the next 12 months, we'll be rolling out many more goodies, including:
More tools for us to import your legacy content into VCS
A scored screen that will report student formative assessment results to a newly launched VitalSource Score Center
An expanded array of interactive question types for gauging student comprehension
We believe VitalSource Content Studio is where great content starts and we work hard every day to make it better. So get your free trial today, and see where we go in 2018!