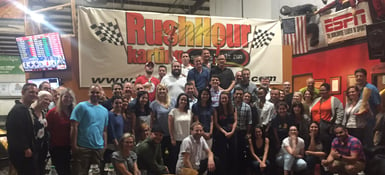 Before the calendar resets for 2018 – and the majority of our institutions, campus stores, and publishers enter the next rush, and while companies plan 2018's new learning programs – I wanted to take some time to reflect on 2017.

For 21 years we have been focused on helping our customer succeed, and that focus has brought us excitement, challenges, and transformative growth. 2017 has been no exception. By every measure it has been a record year in every metric we grew more than 30 percent this year!

Over the last 12 months we have seen a boom in students and employees using our learning platform, increasing 2.4 million over the previous 12 months. A total of 7.8 million users collectively spent well over 8 thousand years learning on our platform!
More important than the raw numbers is that we've helped campus stores, institutions, and publishers drive affordability for students – especially those at institutions with Inclusive Access programs – just through our inclusive programs, students across the United States have realized actual savings of more than $100 million.
Through Intrepid we've also helped companies and content providers reach more learners than traditional programs, all while providing a transformative learning experience that leads directly to improved learning outcomes.
Ultimately, this is what drives our work. Helping our customers reach millions of learners, with affordable access to digital learning experiences that impact their lives. The quotes we hear from our customers' students and employees power us. Students who can afford a winter coat for their children because the content is suddenly affordable to them. Sales people who now can talk about the cloud and drive their customers' business to new heights. It's hard not to be inspired.
None of this growth would have been possible without the passion of both our customers and the team here at VitalSource. We've added 100 team members this year, so that we can focus on our customers' success. Our team is the best in the business, and so are our customers! Our team is in this to impact students and employees lives and so are our campus stores, institutions, publishers, and companies. Here's to a banner year, and to the next one!