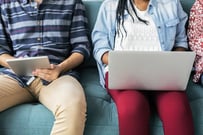 In 2002, the United Nations Educational, Scientific and Cultural Organization (UNESCO) first adopted the term open educational resources (OER), setting the scene for the learning landscape to embrace the reusing, revising, remixing, and redistributing of content. But in 2019, the use of OER in the UK is still very much localised, relying on specific projects for support.
Before we look deeper into how UK higher education institutions could better utilise open resources, it's important to understand exactly what OER is and how it differs from open access (OA).
OER: Openly licensed educational materials that sit in the public domain and can be accessed for free. These materials can be used for teaching, learning, research, and other purposes, and have been released under an intellectual property license that permits them to be repurposed. OER includes full courses, course materials, software, textbooks, and other tools and materials. They are designed to support access to knowledge.
OA: Free, unrestricted online access to research publications, such as journal articles. This content can often be analysed using text mining or reused.
In essence, OA is only focused on the aspect of access, whereas OER is designed to be revised and adapted to meet the needs of its consumer.
With suggested figures for average spend on books, computers, and equipment in the last year of studies rising to £519, should we also expect a rise in the popularity of OER? If you believe the answer to be yes, do you feel prepared and up to date with the world of OER? In this series, we'll be explaining how to find OER, and how VitalSource can work with institutions and publishers to change and improve OER.