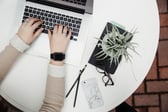 After you've overcome the confusion surrounding metadata best practices, and the attributes you should be focusing your efforts on, it's time to put it all to the test.
In 2019, VitalSource introduced Upload as a replacement for FTP, file storage, and email delivery methods of metadata. With Upload, our partners have 24/7 access to content ingestion, along with file submission tracking and success/error feedback for each file. Empowering publishers to take charge of your own ingestion and asset creation means you have more control – no more delays due to a time difference between you and your VitalSource contact, plus full visibility on any file issues that may occur.

Using Upload is easy. The metadata template highlights the rows where mandatory information is required, whilst allowing you to add comprehensive metadata to your titles on mass. This template also contains an 'Instructions' tab which provides examples of good and bad data, and a 'Validation' tab displaying a break down of various language, sales rights, BISAC, and currency codes for your convenience.



Adding metadata to the system is as easy as dragging and dropping the template and any files. If the required cells are completed, your metadata submission will automatically trigger the set-up of the asset record. If traffic is light, this process can take as little as a few minutes to complete.

Getting to grips with metadata has never been easier.

To refresh your memory about metadata and how to best take advantage of the attributes you can add using Upload, we are providing free access to Metadata Essentials: Proven Techniques for Book Marketing and Discoverability until March 9th!

Request access to the title here.